Please contact our team for more information or pictures. 
Type
BOPP Tenter line
Year
1986
Upgrade
Main upgrade 2004
Capacity customer rolls (t/a)
12 000
Maximum Output
1750 kg/h
Maximum speed

Design: 300 m/mi

In production: 270 m/min

Film width (trimmed)
6400 mm
Possible thickness
12-50µ
Main film
Transparent coex, transparent tobacco wrapping film
Film structure
ABC
Die
Automatic 2×920/3 layer
Cooling equipment
Chill roll AD = 2100mm and water bath
MDO

Preheating: 10 chrome coated rolls

Orientation: 6 rolls, 2 stretching sections

Annealing: 2 rolls

TDO

Oil steam heating

Length pre-heating: 4×3 meter

Length stretching: 4×3 meter

Total length: 39m

Chain
 Sliding clips
Winder

2 winders, width 3200 mm, max. reel diameter 1000 mm

Contact and gap winding

Edge trim
 
Grinder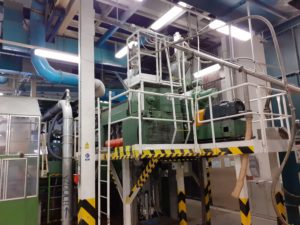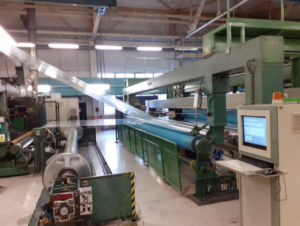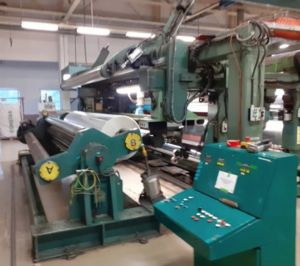 Please contact our team for more information or pictures. 
Year startup
1994
Thickness
15-60 micron
Specifications

3 layers

Max mechanical speed: 235 m/min

Produced film type: Packaging film

Nominal output 1400 kg/h on winder

Extrusion

Cascade Main extruder – Cascade

Output max: 1650 kg/h

Two Co-extruders

Output max: 105 kg/h each

Die

3-layer die with coat hangers, without choker bar

Slotwidth 855 mm

Material: High grade alloy steel, flow channels chrome-plated

Flexible die lip, electrical and manual adjustment

MDO

 Working width: max. 900 mm

Roll face width: 1.100 mm

Stretching gaps: One

Stretching ratio: 1:1 – 1:7

TDO (Transverse Direction Orienter)

Feeding width: 650 – 800 mm

Max. stretching width: 7 m

Heating medium: Heat transfer oil

Pull Roll Stand

Working width: 6.000 mm

Roll face width: 6.400 mm

2 corona treatment stations

Thickness Gauge

Radiactive nuclide: Krypton 85

Speed range: 1 – 12 m/min

Control system
Fully integrated system PLC with server and operator workstations
Other Equipment
slitter CW 960MP – year of production 1995, speed 800 m/min, width 6.0 m
metallizer V8 High vacuum – year of production 2006, speed 600 m/min, width 1.7 m
Need more information concerning Secondhand Machinery ?
YOUR RELIABLE PARTNER FOR BI-ORIENTED FILM STRETCHING LINES