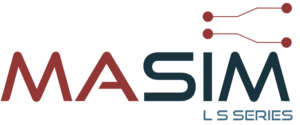 MARCHANTE is launching MASIM L&S Series for technical film simultaneous orientation to improve film mechanical and optical properties while providing a flexible, user-friendly and custom-made solution.
To support the communications and electronics, electrical automotive or specialty packaging industries that are rapidly developing new materials and applications. Therefore, MARCHANTE has challenged the existing mechanical system to achieve extreme stretching ratios, higher processing temperatures and higher film relaxing rates.
In 2018, requirements in battery separator film production have led us to allow the MASIM to stretch thinner film down to 5μ at ratios of 10 times MD (Machine Direction) and TD (Transverse Direction). Consequently, today's challenge is to widen our stretching capacity to ultra-low and ultra-high ratios.
To this end, MASIM L&S Series is an improvement to the original technology, thought to adapt to new criteria in the technical film industry:
Improved stabilization & heat setting – higher relaxing rates, even in high stretching ratios.
Higher temperature films – heating up to 450°C.
Lower stretching forces – smooth stretching, even for films that are more delicate to stretch (BOPA, BOPI,BOPET…)
Ultra-low stretching ratios – the first simultaneous stretching system for ratios MD&TD under 2
Automatic stretching adjustment – improved supervision program for clip calculation and process parameters.
Higher precision stretching – minimum rate of film defect or turbulence at the edges (essential in battery separator films) due to its ultra-thin clips (25mm)
Higher flexibility in stretching ratios – optimum operation even for ultra-low stretching ratios (specially for new communication films)
Stretching temperature accuracy – homogeneity in the total width of the film
Two ranges of MASIM:
MASIM Serie L: mechanical simultaneous technology designed for stretching ratios up to 1:2 MD&TD.
MASIM Serie S: mechanical simultaneous technology designed for stretching ratios up to 1:12 MD&TD.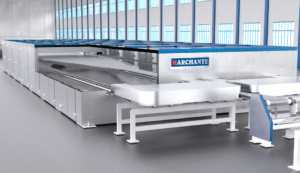 Applications:
Technical film for electronics : BOPI, CPI, PTFE, PPS, Capacitor Ultra-thin film, Optical films, Flexible screens
Technical film for communication: LCP, MPI for 5G antenna, mobile devices
Mono-material packaging: BOPE
Battery Separators Film
Packaging films: BOPP, BOPET, BOPS
High end Packaging: BOPA, Multilayer, High barrier film
Stone Paper
Bio-based and recyclable packaging
Download Press Release
MASIM L&S Series 2020